Eind 1979 bracht liefde mij naar Amsterdam. Ik kwam daar terecht in de Egelantiersstraat 113 een beroemd en berucht pand (zie ook www.vrouwennuvoorlater.nl).
Love brought me to Amsterdam at the end of 1979. I lived in Egelantiersstraat 113 (the 'Sweet Briar') an (in)famous building (see www.vrouwnnuvoorlater.nl)
Het was de tijd van 'Geen kroning maar woningen', LGTB kraakpanden en veel coke (wat ik niet gebruikte). Ik kwam uit Iran waar de revolutie uit was gebroken en Ierland met de 'Troubles'.
It was the era of riots around the crowning of the new queen, LGTB squats and lots of coke (I wasn't a user myself) I had left behind an Iran in Revolution and an Ireland plagued by 'The Troubles'.
Hank Kune studeerde in Cardiff waar ik de opkomst en ondergang van de Punk meemaakte en het begin van het Thatcher tijdperk met de ongebreidelde markteconomie revolutie.
Hank Kune studied in Cardiff where I witnessed the rise and fall of 'Punk' and the coming to power of Margaret Thatcher with her unbridled market economy.
Na vergeefs geprobeerd te hebben met schilderen aan de bak te komen, ging ik vanaf 1982 weer striptekenen. Ik tekende veel soms voor  kleine blaadjes en maakte een stripboek over Iran.
After an unsuccessful attempt to make it as a painter I went back from 1982 to illustrations, cartoons and graphic novels. My work appeared in small mags and a graphic novel about Iran.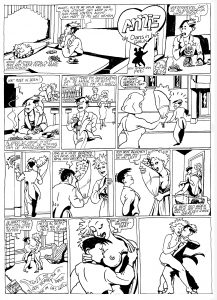 In mijn Amsterdamse werk liet mij vooral inspireren door de bewoners en gasten van Egelantiersstraat 113, de visuele puinhoop die Amsterdam was en door de 'scene' in het in 1978 opgerichte vrouwencafé Saarein. Mijn referentiekader was behoorlijk klein.
My inspiration for my work that had anything to do with Amsterdam were the girls that lived or visited Sweet Briar, the visual mess Amsterdam was in and the 'scene' in Café Saarein the women's pub that was started in 1978. My perspective was rather limited.
In de Egelantiersstraat draaide alles om Lidie Kleijn en de katten. Iedere verdieping was één flat. Lidie woonde op de eerste verdieping bij de telefoon. Zij woonde er van het begin in 1974 tot de sloop in 1985. Ook in de 'anarchistische' vrouwen scene in Amsterdam nam Lidie een vooraanstaande plaats in. Niet alleen in het 'Vrouwenhuis', maar ook in boekhandel Xantippe en Café Saarein.  Dankzij haar kwam ik ook nog eens ergens.
Lidie Kleijn and the cats stood at the centre of life in Sweet Briar. On every floor was one studio apartment and Lidie's was on the first floor next to the telephone. She lived in Sweet Briar from the start in 1974 to the demolition in 1985. In the anarchist women's scene Lidie also played a key role: not only in the 'Vrouwenhuis' but also in bookshop Xantippe and Café Saarein. Thanks to her I got to know people.