" De Bizarre Wereld  Bezweren
Undoing A Bizarre World "
— Peti Buchel
Curriculum Vitae
Opvoeding en Scholing
Curriculum Vitae
Upbringing and Education
Nijmegen 06-06-1946 / 1969 
Ik ben geboren en getogen op de Hatertseweg in Nijmegen.
I was born and brought up at 'Haterseweg' in Nijmegen, The Netherlands
Vanaf mijn vierde ging ik naar de kleuterschool op de Groenestraat waar ik alle kinderziekten opliep. Van 1952 tot 1958 zat ik op de Openbare Lagere School 10 in de Reestraat.In de zesde klas van de lagere school had ik les van Hoofdmeester Jan van Venrooy. Hij gaf het advies om door te gaan naar het Gymnasium.
When I was four I was send to pre-school on 'Groenestraat'. There I got all the infectious children's deceases. From 1952 to 1958 I attended Public School Number 10 on 'Reestraat'. In six grade I was taught by Head Master Jan Van Venrooy who subsequently gave the advice to continue my studies at the municipal grammar school, 'Gymnasium'.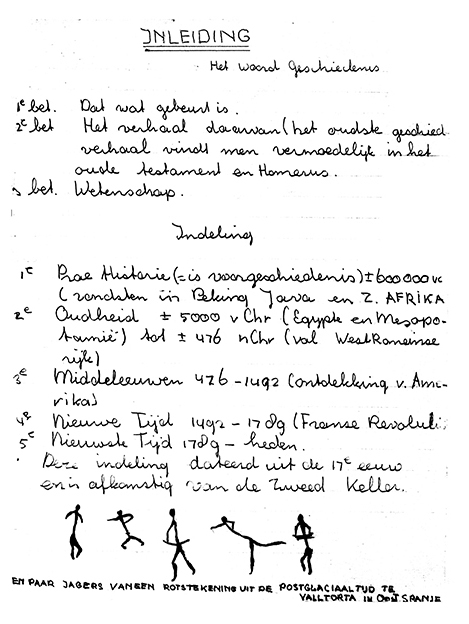 Ik was een grondig ongeconcentreerde en schitterend ongedisciplineerde leerling. In 1965 liet ik mijn middelbare school carrière achter mij zonder diploma.
As a schoolgirl I was thoroughly unable to concentrate and  brilliantly badly disciplined. In 1965 I was kicked out  of school without anything to show for
In de eerste klas van het Gymnasium schreef ik mijn eigen lesmateriaal: Oude Geschiedenis. Hier de eerste bladzijde. Ik tekende ook veel van de illustraties.
In the first year of the Gymnasium I rewrote the history book on Ancient History. Here the first page: Introduction. I also did a lot of the illustrations.
Vanaf mijn vroegste jeugd werd ik in contact gebracht met kunst en kunstenaars. Een hele vroege droom was het bezoeken van de wereld van 'Duizend en één nacht'. Gedurende mijn schooltijd waren mijn interesses: tekenen, lezen, strips (natuurlijk), films, architectuur, geschiedenis en de actualiteit.
From my earliest youth I was made familiar with art and artists. An early dream of mine was to visit the world of 'Thousand and one night'. During my school years my hobbies were: art, reading, graphic stories (of course), movies, architecture, history and current affairs. 
Arnhem 1965-1972   1965-1970 ABK
In de eerste drie maanden op de ABK nu Artez  leerde ik te kijken en te tekenen van Henk Peters bekend van de 'Zero Beweging'. Het was de eerste grote onthulling van mijn jaren op de academie. Ik zat vijf jaar op de afdeling 'Schilderen en Grafiek' zonder het after ronden met een diploma. Mijn leraren daar waren o.a. Johan de Haas, Peter Struijken en Bert Bouman.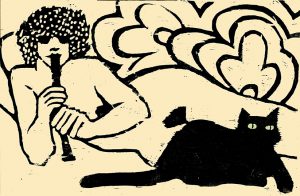 In the first three months of the ABK (now Artez) I was taught how to look and how to draw by Henk Peters of 'Zero Movement' fame. It was the first big revelation of my career as an art student. I spent five years studying 'Painting any Graphic Art' without anything to show for it. My teachers were a.o. Johan de Haas, Peter Stricken and Bert Bouman. 
De tweede grote ontdekking die ik op de academie deed was dat ik zonder erg veel moeite of geld al liftend grote delen van de wereld kon zien. Van 1965 tot 1972 liftte ik in Europa, Azië, Afrika en Noord Amerika. Vooral mijn reizen in de USA en door de Islamitische wereld maakten diepe indruk op mij.
The second larges discovery I made as an art student was that with a modicum of money and bother I could hitchhike the world. From 1965 to 1972 I hitchhiked in Europe, Asia, Africa and North America. Especially my travels  in the USA and through the Islamic world left a lasting impression.
New York 1970 Indrukken getekend in 1971 
New York 1970 Impressions put on paper in 1971
Direct na de academie ben ik naar Noord Amerika gegaan op uitnodiging van Meg Katzman die ik het jaar ervoor in Istanbul had leren kennen. Ik nam daar stiekem les in film van Nicolas Ray in Harpur College Binghamton NY en fotografie aan Pratt Institute in Brooklyn NY. In New York ontmoette ik Hank Kune die mee naar Nederland kwam en met wie ik verder bevriend bleef. Hij heeft de 'Polranny Pirates' mogelijk gemaakt.  Later toen hij voor Rijkswaterstaat werkte, heeft hij het visueel notuleren verzonnen. Dat heb ik, met twee anderen, jarenlang als 'Beeldleveranciers' gedaan.
After finishing school I went to North America at the invitation of Meg Katzman, whom I had met the year before in Istanbul. I sneaked lessons about filmmaking by Nicolas Ray at Harpur College, Binghamton NY and Photography at Pratt Institute in Brooklyn NY. In New York I met Hank Kune. He made the Polranny Pirates possible in Ireland and while working for the Dutch Department for Watermanagement and Roads he created the job of visual note taking. Under the name 'Beeldleveranciers'  me and two others worked for years as visual note takers. 
Iets meer dan een jaar nadat ik van de academie af kwam, werd ik tot de Beeldende Kunstenaars Regeling toegelaten. Ik deed het alleen voor het geld zodat ik kon doen wat ik echt wilde: strips maken (voor o.a. Aloha en Tante Leny Presenteert. Desalniettemin er zat werk tussen dat verbazingwekkend was.
Little more then a year after I left the ABK I was admitted to the Artist Support Regulation (BKR). I was only in it for the money that I would need to do what I really wanted: make comics and graphic stories (for a.o. Aloha and Tante Leny Presenteert). But nevertheless some of the work was amazing.
Begin 1972 kraakten Hank Kune, Dick van der Meijden, Peter Linde en ik Klarendalseweg 74 een winkelpand met woonhuis. In die tijd was kraken toegestaan mits er aan bepaalde eisen werd voldaan. We kregen wel een knokploeg op ons dak, maar uiteindelijk kocht de gemeente het pand van de eigenaar voor het gebruik kunstenaars. 20 jaar later raakte ik weer betrokken bij kraken voor kunstenaars.
Early 1972 Hank Kune, Dick van der Meijden, Peter Linde and me squatted Klarendalseweg 74 a former grocery store with living quarters. Squatting was permitted in those days albeit you did it by the rule. We did but were nevertheless roughed up by thugs. The city bought the property for the sole use of artists. 20 years later I was once again involved with squatting for artists.
Toen ik eenmaal in Arnhem was ingeburgerd was het tijd om de biezen te pakken.    Once I had settled comfortably in Arnhem it was time to pack my bags and move.
---
In den vreemde | In foreign parts
Vanaf eind 1979 woonde en werkte ik in Amsterdam
From the end of 1979 I lived and worked in Amsterdam 
D'un Temps Perdu
Onderaan de pagina, na mijn verhalen over Nijmegen, Arnhem, in den vreemde en Amsterdam, vind u mijn blogspot 'D'un Temps Perdu'.
'D'un Temps Perdu', is een aanvulling op mijn CV en gaat over alles wat er ondertussen ook gebeurde, belangrijk was, aan de zijlijn stond en wat ik op mijn weg tegenkwam…
'D'un Temps Perdu' is an addition to my CV. It is about everything that was important, that also went on and that came my way…
Bekijk & lees meer | see & read more
Op mijn Blog D'un Temps Perdu vindt u meer tekeningen en verhalen.
On my Blog D'Un Temps Perdu you'll find more sketches and stories.