TEKENINGEN  GEMAAKT  TIJDENS  TOCHTJES  NAAR  ROBBENOORD, GRONINGEN
SKETCHES  MADE  DURING  OUTINGS  TO  ROBBENOORD,  GRONINGEN
In 2020 vlak voor de Covid pandemie kochten mijn Amsterdamse vrienden Coby en Tom een vakantiehuisje in Robbenoort, Lauwersoog, Groningen. In de zomer van 2021 kwam ik er voor het eerst. Even de stad uit! Robbenoort ontstond na het dichten van de Lauwerszee. Allebei  geesteskinderen van Sikko Mansholt die in de buurt in Ulrum geboren was. Hij was ook de eerste die in Robbenoort een huisje bouwde.
Coby and Tom friends of mine in Amsterdam, bought a holiday home in Robbenoort, Lauwersoog, Groningen in 2020 just before the outbreak of the covid pandemic. I visited them there for the first time in the summer of 2021. Robbenoort was created after the closing of the Lauwerszee. Both were the brain children of Sicco Mansholt the first Commissioner of Agriculture of the European Community. He was born close by in Ulrum and was the first one to built himself a little place in Robbenoort.
Robbenoort is deel van de gemeente Het hoge Land in de noord-oosthoek van Groningen. Het Hoge Land omvat een heleboel oude dorpjes en stadjes. allen met een rijke geschiedenis. Gaandeweg leerde ik ze allemaal kennen.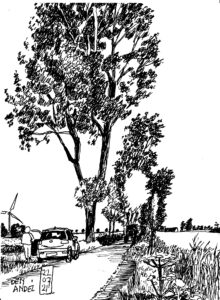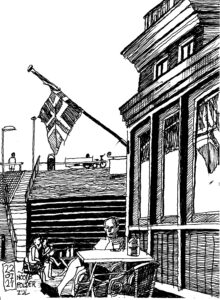 Robbenoort is in the township of Het Hoge Land in the north west of Groningen. Het Hoge Land encompasses a great number of ancient villages and small towns each with a remarkable history. I came to know them all.