1994-97 ZIJ AAN ZIJ: PAGINA VULLENDE TEKENINGEN, FULL PAGE DRAWINGS
Zij aan Zij begon in 1992 als een gestencild blaadje dat kleine annonces publiceerde van 'vrouwen die van vrouwen houden'. Onder de bezielende leiding van Maria van Oosten was het in 1994 uitgegroeid tot een volwaardig tijdschrift. Toen nog wel in zwart/wit. Een paar jaar later verscheen het in kleur en ging het 'dating' deel ook on-line. In 1994 vroeg Maria mij om paginavullende tekeningen voor de achterpagina te maken. Die tekeningen moesten een losse relatie hebben met het hoofdartikel. Later toen er advertenties op de achterpagina kwamen verhuisde de tekening naar binnen. Ik heb de tekeningen altijd met veel plezier gemaakt. En toen Maureen Ahearne en ik Open House hadden opgezet gebruikte ik de tekeningen ook vaak in de nieuwsbrief. Na mij hebben op mijn voordracht ook Carla Emmink en Margreet de Heer getekend. Margreet creëerde  speciaal voor Zij aan Zij haar stripjes over Mijntje nu ook in boekvorm.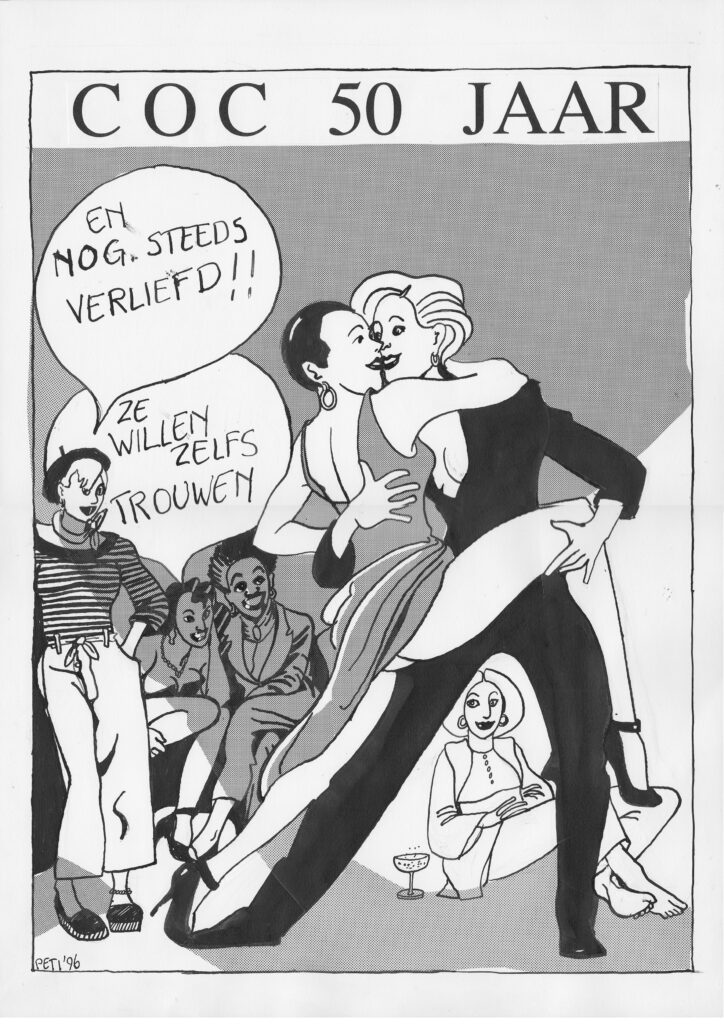 Zij aan Zij started life as a stencilled zine with dating adverts for 'women who love women'. under the inspired management of Maria van Oosten it quickly grew into a real magazine and a few years later into a Glossy. The dating section morphed also onto the internet. In 1994 Maria asked me to make page filling illustrations for the back page. These drawings had to relate losely to the main article. it came to 8 drawings a year. I really enjoyed doing it although the pay was a pittance. When Maureen Ahearne and I set up Open House in Ireland i felt free to use the same drawings for the newsletter.