Ik heb problemen met mijn buik gehad sinds ik in 1969 met Herman de Vries in de Sahara liftte. Daar liep ik amoebe dysenterie op. In Algerije in een ziekenhuis voor infectie ziekten dat door de Sovjets gerund werd, werd ik opgelapt. Maar de buikproblemen zijn nooit weggegaan.
I have had tummy problems for 50 years. It all started in 1969 when I was hitchhiking in the Sahara with Herman de Vries and caught a bad case of the amoebe dysentery. In Algeria they patched me up in a Soviet run hospital for infectious diseases, but that wasn't the end of tummy trouble. It only got worse over the years. 
Ik werd opgenomen met grote problemen aan de darmen in 1984 en 1986.
I ended up in hospital with bowel problems in 1984 and 1986.  
In 2000 I was diagnosed with bowel cancer.  The bowel cancer was treated successfully. From 1990 I did illustrations for 'Stichting September' medical care books. I did a lot of anatomical drawings. I'm using them here to show the location of the cancer. 
In 2000 werd ik met darmkanker gediagnosticeerd. De kanker genas. Vanaf 1990 heb ik illustraties gemaakt voor Stichting September medische zorg boeken. Ik deed veel anatomische tekeningen die ik hier gebruik om de plaats van de kanker te tonen.
De eerste kanker operatie mislukte en eindigde met een peritonitis. Bij de tweede kreeg ik een dikke darm stoma. Ik had geluk en was blij dat ik nog leefde.
The first operation failed badly. It resulted in a peritonitis. The subsequent surgery gave me a colon stoma. I was lucky and happy to be alive.
Maar de gevolgen van twee zware kanker operaties bleven. Al snel ontwikkelde ik een stoma breuk en ik kreeg ook steeds meer last van verklevingen. Tussen 2000 en 2019 werd ik meerdere keren opgenomen en tweemaal opnieuw geopereerd. Het OLVG in Amsterdam werd een vertrouwde omgeving.
But the intestines kept giving problems. I quickly developed a hernia and problems with scar tissue. Between 2000 and 2019 I went several times to the A&E and had surgery twice. The OLVG hospital in Amsterdam became too familiar.
De laatste keer dat ik opgenomen moest worden was in de zomer van 2019. De operatie verliep perfect maar helaas de operatiewond infecteerde.
The last time I had to go to hospital was in the summer of 2019. Surgery was a great succes. However the surgery wound got infected. 
Ik was een maand in het ziekenhuis. Als ik mij goed genoeg voelde, probeerde ik te tekenen: het uitzicht, de medepatienten en de receptie. De andere patiënten bleven maar kort, maar er was een jonge medische studente die een maand stage liep als verpleeghulp die tegelijk met mij kwam en ook tegelijk weg ging. Dat schiep een band. Ze was als 17jarige vanuit Damascus naar Nederland gevlucht. Haar verhaal was niet opwekkend, maar ze had het gedaan en het was haar gelukt! In de tekening is ze het meisje met de hijab en het brilletje.
I spend a month in hospital. When I felt good enough I tried to sketch: the view, my fellow patients, and the nurse's station. None of the other patients stayed long. However there was one young medical student who did a month long stint as a nurse's aid. She arrived at the same time I did and left the same day I was discharged. We bonded sort of. She had come to the Netherlands as a 17yaer old refugee from Damascus. Her story was gut wrenching, but she had done it and she had made it! In the sketch she is the girl with the glasses wearing a hijab. 
Toen ik het ziekenhuis uitkwam, kreeg ik 3 maanden lang tweemaal daags wondverzorging. Kimberly was de jonge Surinaamse thuiszorgster die ik het vaakste zag. Zij was heel vakkundig en had een erg positieve instelling.  Alhoewel het genezingsproces in mijn opinie tergend langzaam verliep, vond zij dat het heel snel ging. Aangemoedigd door haar bleef ik tekenen en gaf niet toe aan een dreigende depressie. Zonder de hulp van vrienden had ik het ook niet gered.
After I was discharged from hospital, I still had to get wound care twice daily for three months. Kimberly was the young home care nurse that visited me most. She was extremely professional and her attitude was very positive. Although the healing proces went much too slowly for my taste she assured me progression went very smoothly. Encouraged by her I kept up the sketching and didn't submit to the lurking depression. Without the help of friends I wouldn't have made it through either.
En toen kwam Bert terug van haar jaarlijkse Siberië reis en begonnen we aan wat 'Dutchmen in Illigh' zou gaan worden.
And then Bert came home from her yearly trip to Siberia and we started on what would become 'Dutchmen in Illigh'.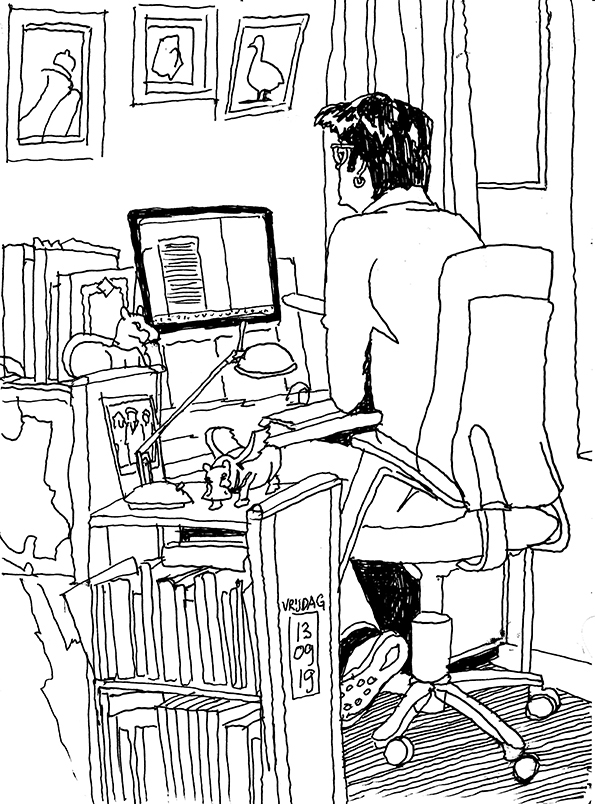 Eind goed, al goed. Op 10 okt had ik mijn laatste controle in het OLVG. Twee jaar later ben ik nog steeds probleem vrij!
All is well that ends well… October 10 I went for the last time to the OLVG. Two years later I'm still problem free!