Open House
Newsletter for the Network of Gays and Lesbians in Rural Ireland 1996 and 1998
Het Netwerk was opgezet door Maureen Ahearne en mij na een interview met Maureen in de GCN (Gay Community News). De GCN plaatste een oproep voor plattelands homo's en lesbo' om zich te organiseren. I reageerde en Maureen en ik ontmoetten elkaar daarop in Tullamore. Die dag begonnen we met een 'Newsletter' om de doelgroep aan te trekken.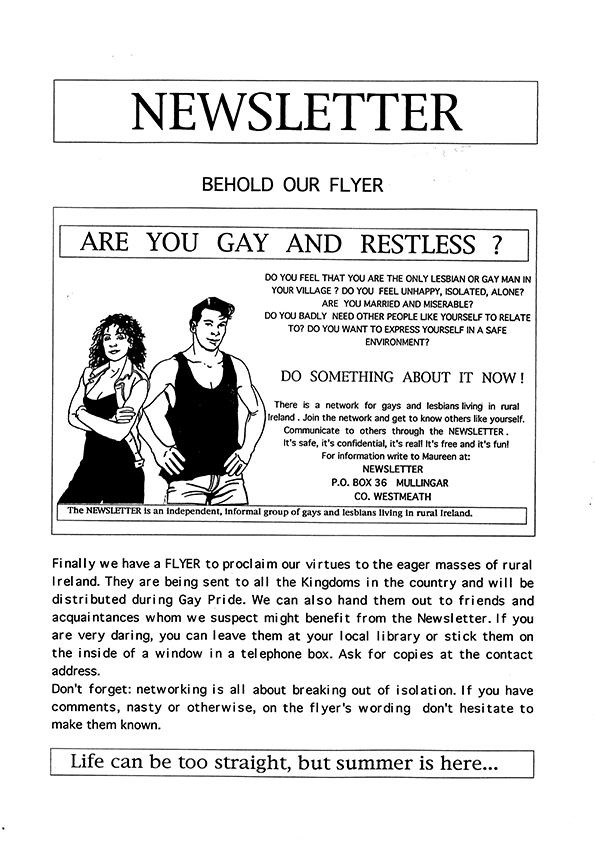 The Network was started by Maureen Ahearne and me after Maureen was interviewed by the GCN (Gay Community News).The GCN then put out a call for rural Gays and Lesbians to get together. I reacted and Maureen and I met in Tullamore and started that same day with a Newsletter to draw in our target group.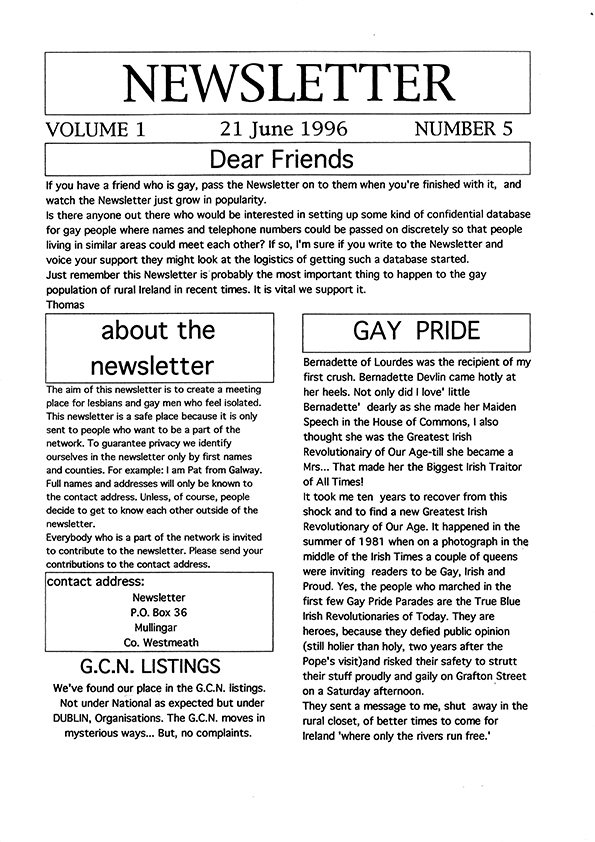 Maureen beantwoordde de brieven, deed het contact met onze sponsoren (de GCN en de universiteit van Galway) en organiseerde bijeenkomsten in ouderwetse hotels in stadjes in het midden van het land. Ik maakte de Newsletter in Polranny of Amsterdam op de computer met Quarkexpress.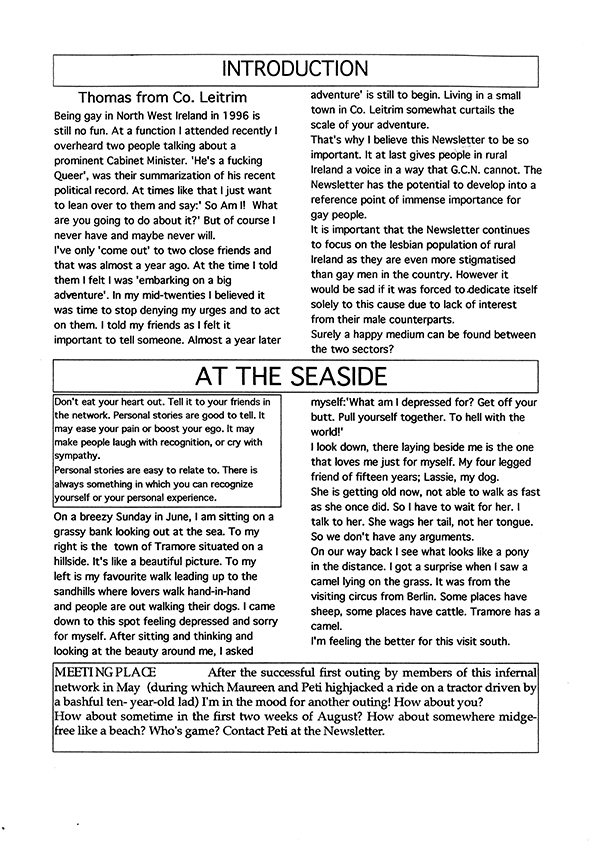 Vergaderingen vonden plaats in de oude gele Golf van Maureen. We reden tot we een leuke plek vonden en dan gingen we picknicken en de administratie doen. In de kofferbak had Maureen alles voor de BBQ: een gasfles, een tweepits gastoestel, een koekenpan en veel worstjes en witbrood.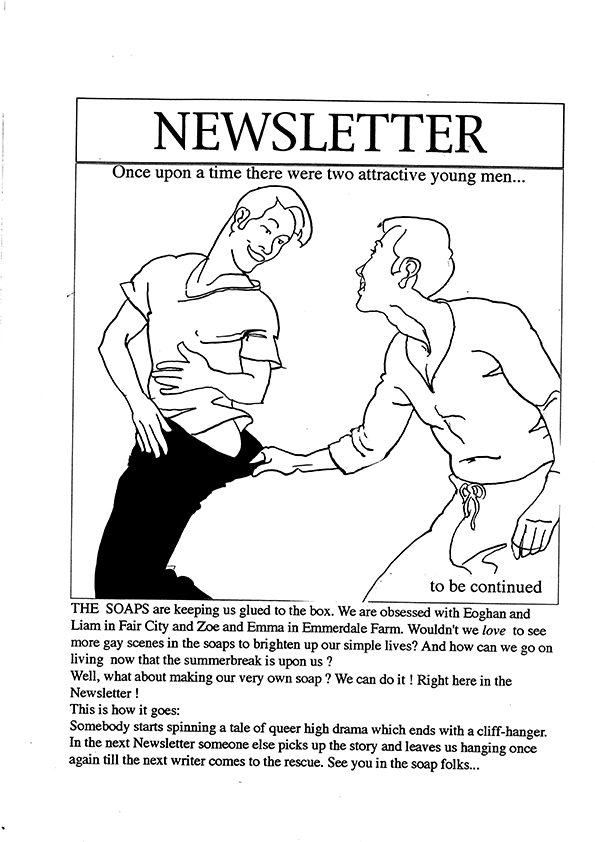 Meetings were held in the ancient yellow Golf of Maureen. We would drive out into the country till we found an agreeable setting. There we would have a picnic and do the administration. In the boot of the car Maureen had everything for the BBQ: a gas bottle, a two bit burner, a frying pan and many sausages and white pan bread.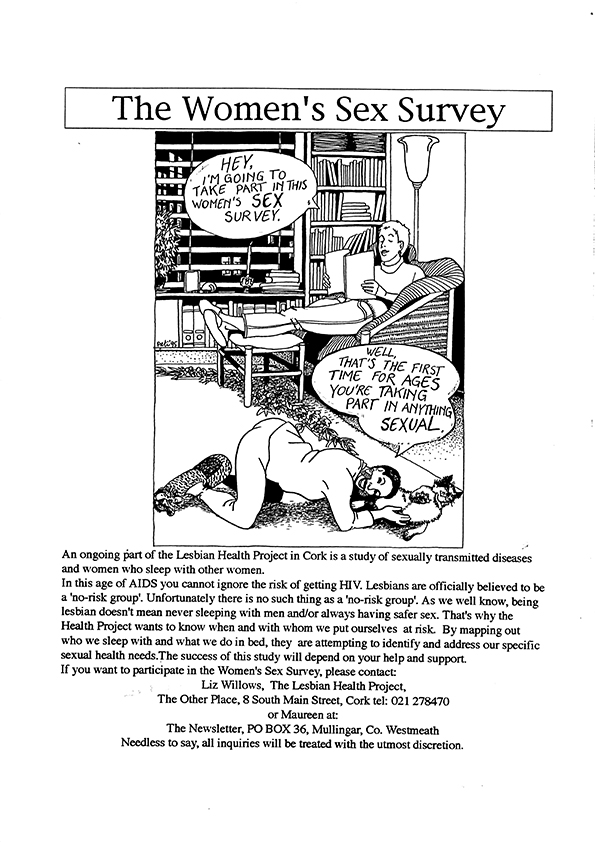 Ik vond het heerlijk om tekeningen te maken voor de Newsletter. Er stond altijd een tekening op de voor- en achterkant.
I loved making drawings for the Newsletter. There was always a big one on the front and the  back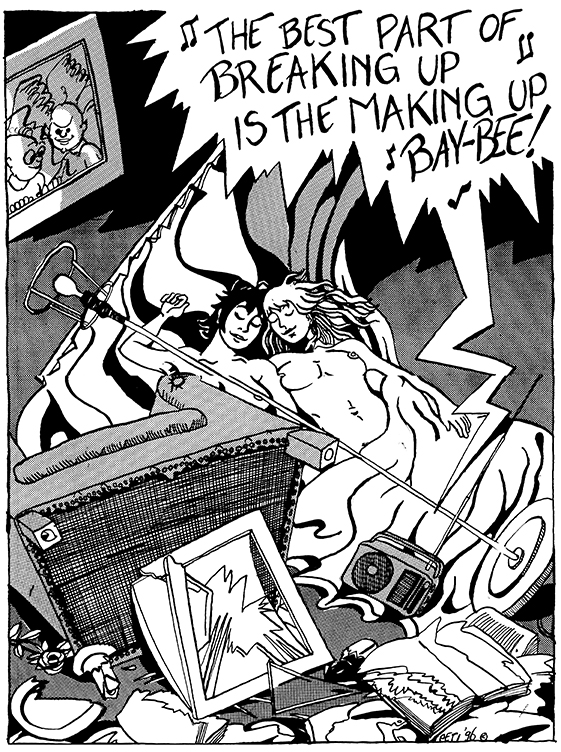 Na een paar jaar was het klimaat in Ierland dusdanig verbeterd voor homo's en lesbo's dat Open House niet meer echt nodig was. We zijn er toen mee opgehouden, maar niet voordat er heel wat leden de liefde gevonden hadden via het Network for Gays and Lesbians in Rural Ireland.
After a couple of years the situation for Gays and Lesbians in Ireland had so much improved that our little network had lost it function. We stopped, but not before quite a few of our members had found love through the Network of Gays and Lesbians in Rural Ireland.
Maureen ging door. Ze richtte een Ierse afdeling op van het Amerikaanse OWLS (Older Wiser Lesbians) en organiseerde eenmaal per maand een Tea and Chat in de Chester Beatty Rooms in Dublin. OWLS evolueerde op den duur in 'Country Capers' dat ook voor oudere Lesbiennes is.
Maureen went on. She initiated the Irish version of the American OWLS (Older Wiser Lesbians). Once a month she organized a 'Tea and Chat' in the Chester Beatty Rooms in Dublin. Over time OWLS evolved into 'Country Capers) also for older lesbians.