2022 Eindelijk weer op bezoek in Tiznit, Marokko. 
2022 Finally back in Tiznit, Morocco
Abdeltif Battah de Marokkaans-Belgische eigenaar van Riad Janoub in Tiznit had me in 2019 al uitgenodigd om tekeningen van Tiznit te komen maken voor hem. Het was er toen niet van gekomen en daarna kwam een periode van twee jaar Covid. In de zomer van 2022 stuurde hij me weer een verzoek en toen moest het er wel van komen. Er was inmiddels het een en ander veranderd. Zo kon ik alleen vanuit Amsterdam naar Agadir vliegen met een tussenstop in Tanger. Ik greep dat aan als een gelegenheid om ook mijn geliefde Tanger weer te bezoeken. Aangekomen in Agadir ontmoette ik natuurlijk als eerste Aicha Aboudmiaa en samen met haar aangekomen in Tiznit haar ouders Moulay Imam en Fatima in hun nieuwe huis.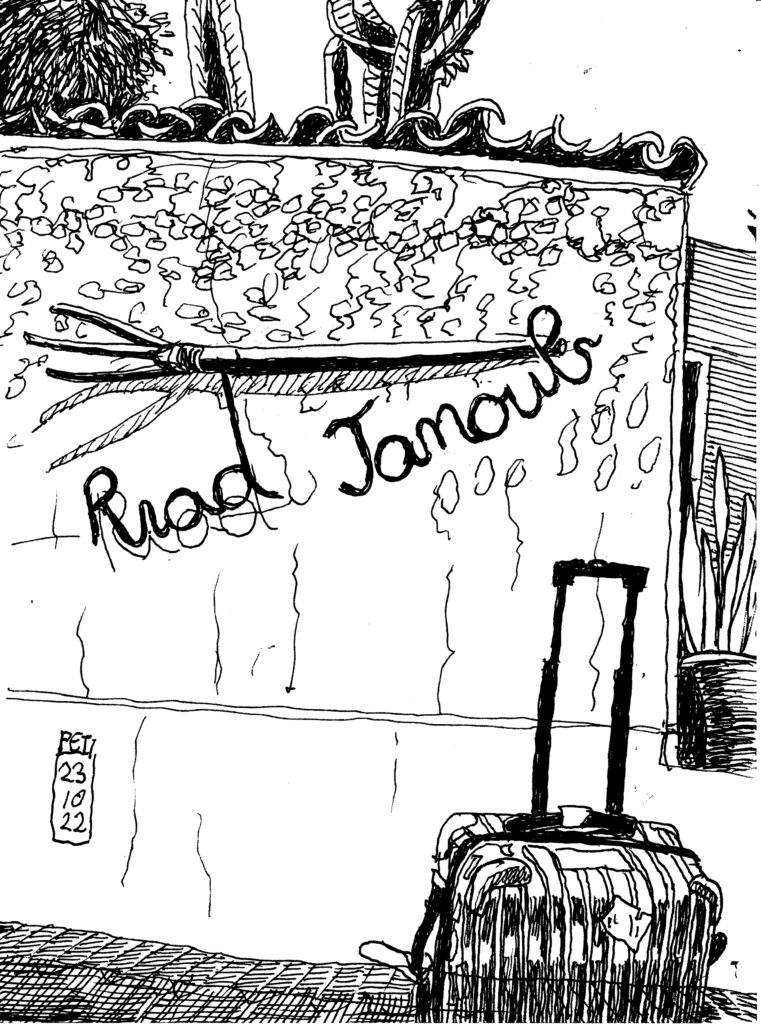 As early as 2019 Abdeltif Battah the Moroccan-Belgian owner of the Riad Janoub had invited me to come and make sketches of Tiznit. That plan fell through and then followed two years of Covid. But in the summer of 2022 he send me another invitation. One I couldn't refuge. In the meantime there wasn't any longer a direct flight between Amsterdam and Agadir. I had to make a stop over in Tanger. A good reason to visit my favorite Moroccan town too. First person I met when I landed in Agadir was Aicha Aboudmiaa and I travelled in her company to Tiznit where I met up with her parents Moulay Imam and Fatima in their new home.
Eenmaal veilig geland in de Riad Janoub werd mijn eerste tekenplek die heerlijke kleine poort in de grote muur die Tiznit omgordt. Die Bab Al Maader waar net een auto door kan, tekende ik eerst van buiten en toen van binnen. Toen wist ik dat ik weer helemaal terug was in Tiznit.
Once comfortably settled in the Riad Janoub my first foray outside was to that small Bab Al Maader in the vast wall that circles Tiznit. First I did a sketch from the outside where a flock of goats just passed. I also sketched from the inside. I knew then that I was back in Tiznit.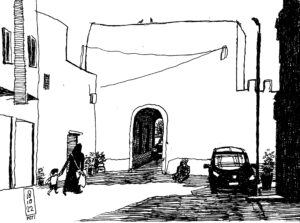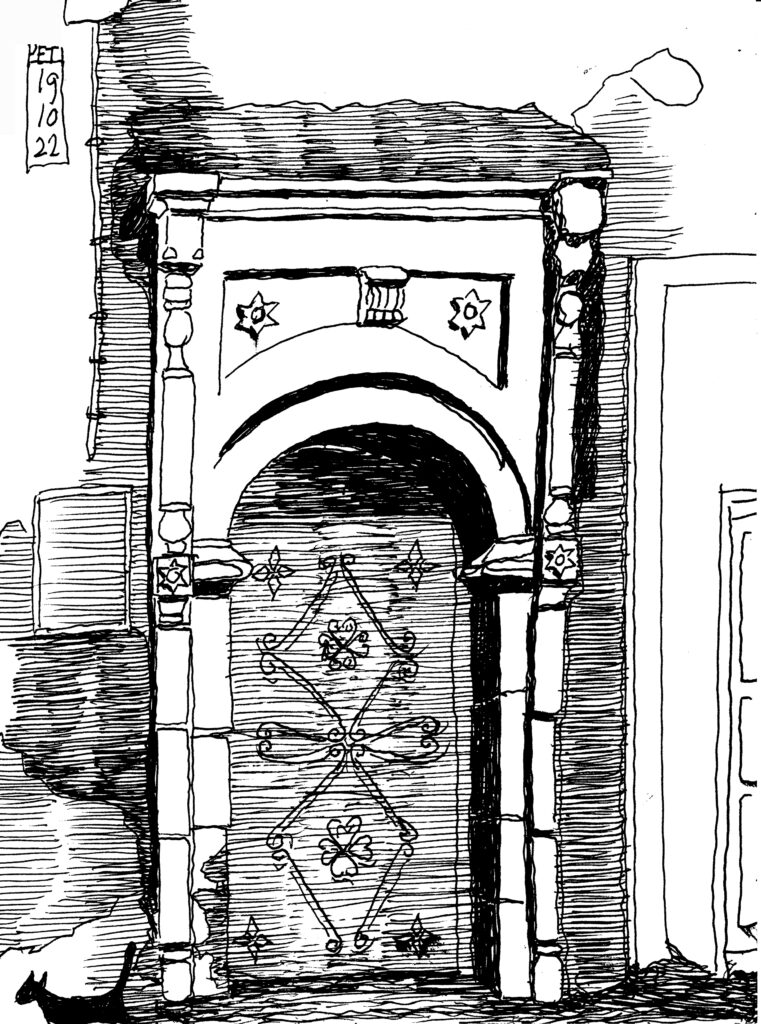 Aby, mijn gastheer, vroeg of ik in de vroegere Mellah van Tiznit wilde tekenen. Het doet hem pijn dat de eens zo welvarende buurt na het vertrek van de Joodse inwoners aan compleet verval onderhevig is. Links een mooi voorbeeld van een voordeur van een groot woon- en pakhuis dat ooit een Joodse familie toebehoorde en dat al jaren leeg staat. Rechts herstelwerkzaamheden aan een aanpalend huis dat naast een recent ingestorte ruïne van een woonhuis stond. Verder zijn er niet veel andere overblijfselen meer van een rijk Joods verleden.
Aby my host asked me to sketch in the neighbourhood where the Jews used to live, the Mellah. It frustrates him that so little is left and nothing preserved of their presence. On the left is the sketch of the front door to a vast townhouse and warehouse of a prosperous Jewish family. On the right repair work is done on the neighbouring house of a collapsed ruin. There are only a few more ruinous leftovers from a rich Jewish past.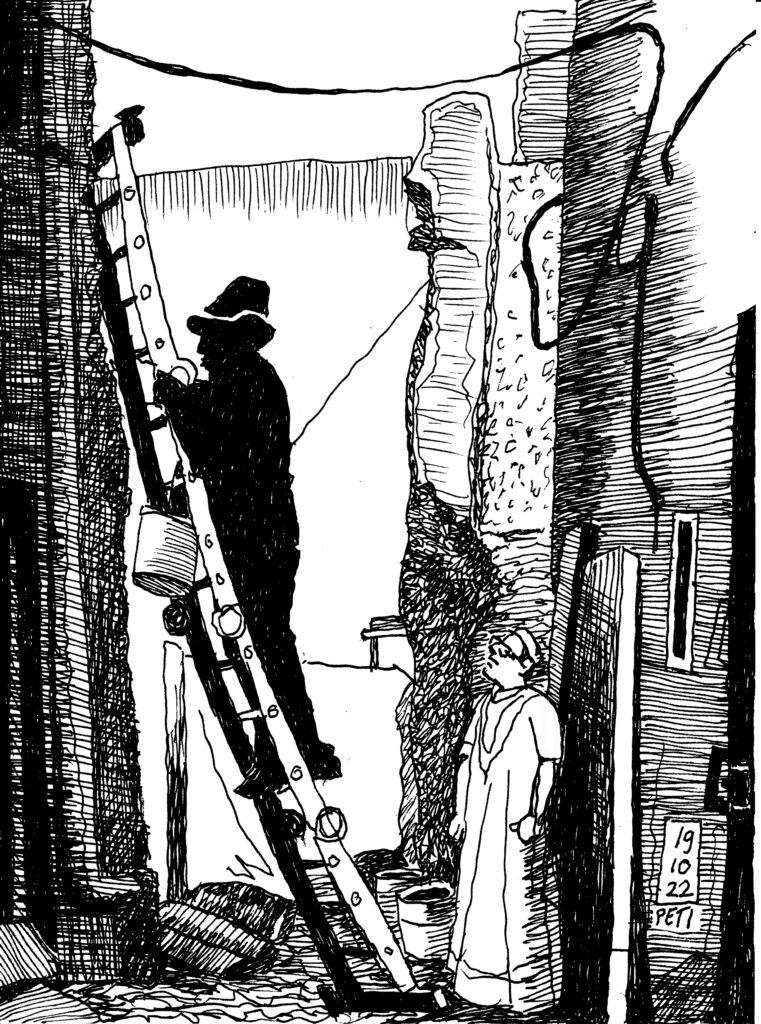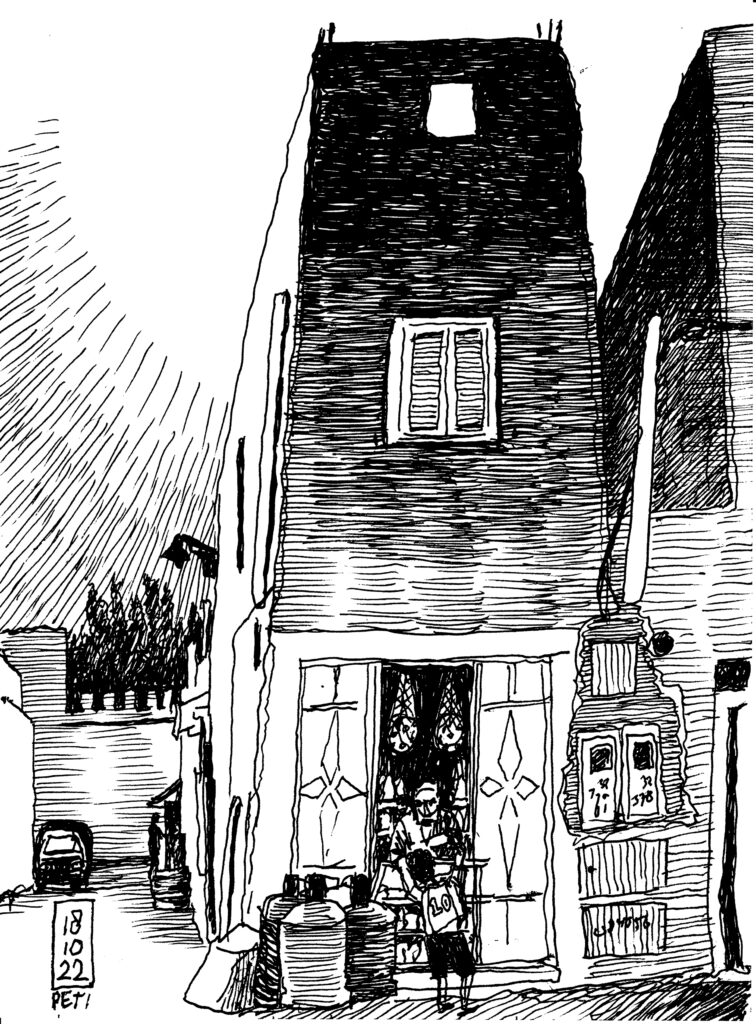 Ondanks dat het de tweede helft van oktober was, was nog steeds heet. Ik deelde mijn dag daarom zorgvuldig in. In de vroege ochtend ging ik er op uit om te tekenen. Om een uur of 11 kwam ik dan weer terug. Dan ging ik de schetsen die ik gemaakt had uitwerken en voor zonsondergang ging ik er nogmaals op uit. Links een typisch winkeltje dat op bijna iedere hoek te vinden is. Rechts de Blauwe Bron de oude bron die Tiznit sinds mensenheugenis bestaansrecht heeft gegeven en onlangs gerestaureerd is.
Even thou it was the end of October it was still very hot. I arranged my day accordingly. Early in the morning I left to go sketching. Around eleven I came back to work on the sketches and just before sundown I went out again. On the left one of the ubiquitous tiny corner shops. On the right the Blue Source the well that since time immemorial sustained habitation. Not long ago it was lovingly restored by local architect Salima Naji.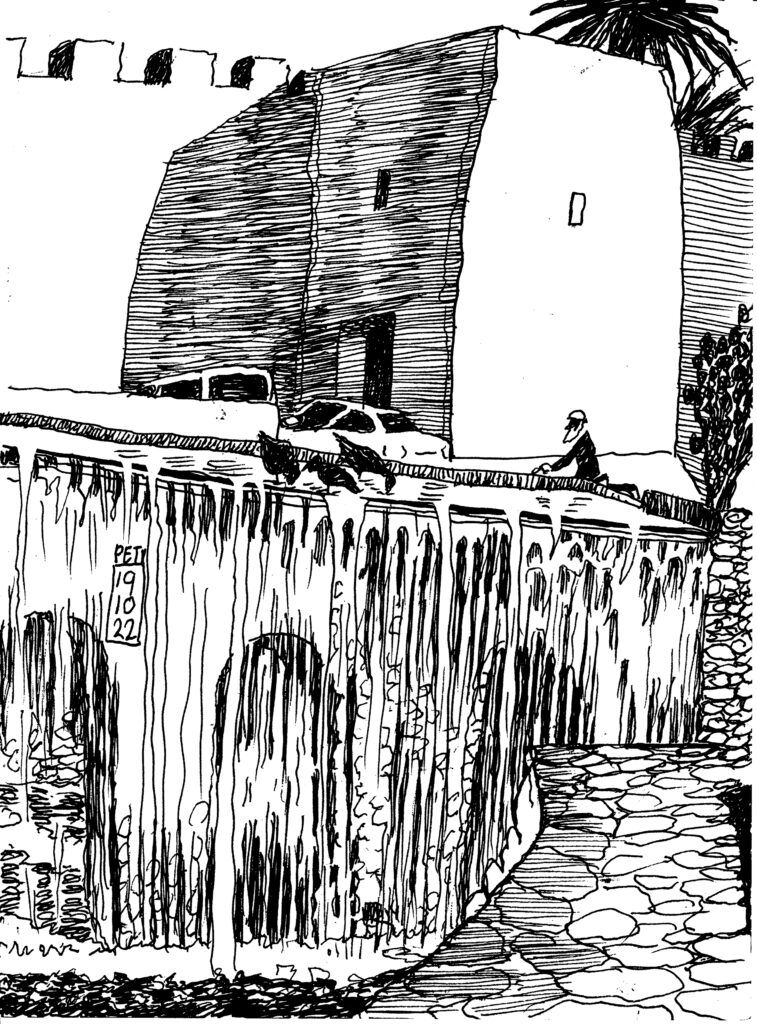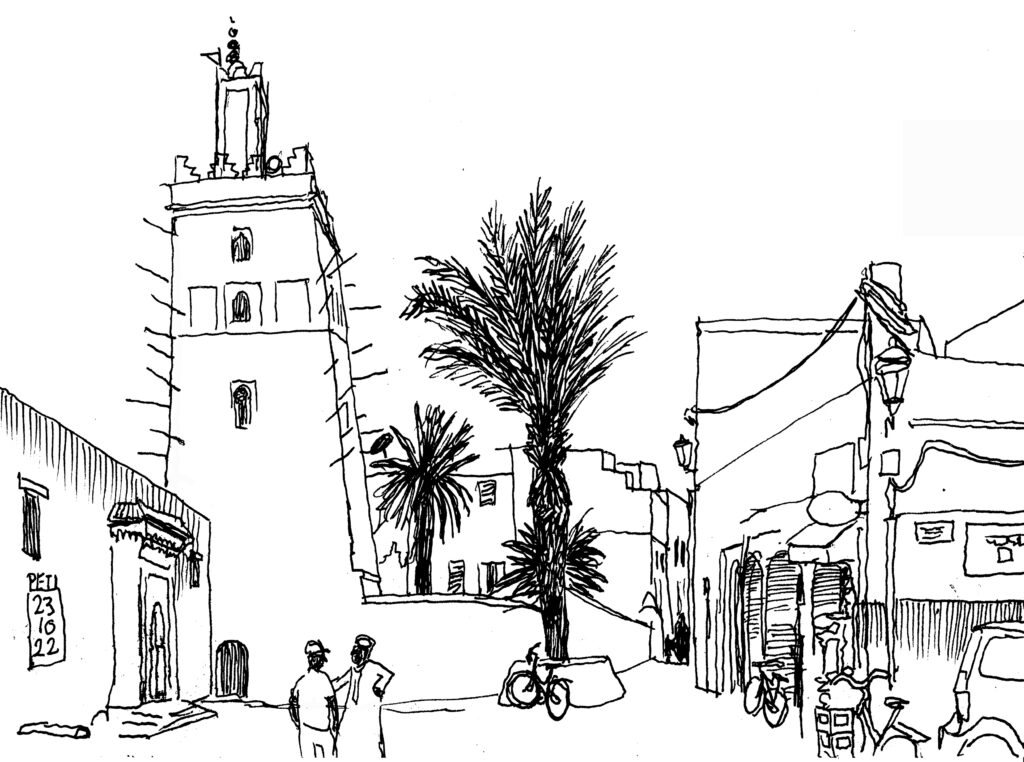 El Jamaa El Kabir het plein van de Grote Moskee. Voordat ik naar Marokko afreisde was ik de biografie van Antoine de Saint Exupery aan het lezen. De biografie start niet met zijn fysieke geboorte, maar met zijn verblijf van anderhalf jaar in Juba een Spaans fort ten zuiden van Tiznit. Die paar maanden daar heeft de rest van zijn creatieve leven bepaald. Voor mij was dat mijn verblijf in Ahwaz, Iran. Nu door geluid, geur, ambiance en gevoelswaarde van de lucht kan ik dat unieke bewustzijn nog steeds vangen. In Tiznit was het hier.
El jamaa El Kabir the square of the Great Mosque. before I travelled to Morocco I read the biography of the French writer Antoine de Saint Exupery. The biography doesn't start with his birth but with his defining time in the deserd fort of Juba south of Tiznit. Altough he stayed there only 18 months it defined his creative life. The same happened to me in Ahwaz, Iran. Nowadays through smell, sight, noise, ambiance and a certain feel to the atmosphere I can still capture that unique consciousness. In Tiznit it was here.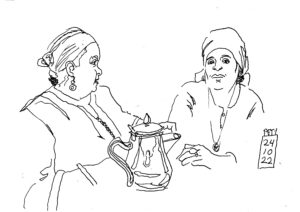 Natuurlijk bezocht ik het nieuwe huis van Moulay Imam en Fatima Aboudmiaa een paar keer. Op een dag was Malika de zus van Fatima er ook. Ze gingen direct op het papier. Fatima en ik hebben ook nog een uitstapje naar de beroemde zilver soek gemaakt. Ik moest en zou Fatima eerst nog portretteren in de uitrusting waarmee ze de straat op gaat als dame van stand.
Of course I paid a few visits to Moulay Imam and Fatima Aboudamiaa in their new abode. One day there I met Malika the sister of Fatima. They went straight to paper! Fatima and I went to the famous Silver Souk but first I had to portray Fatima in full regalia the way a woman of substance goes out the house.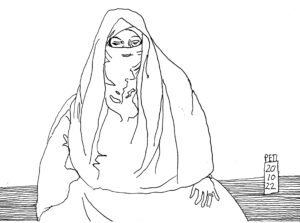 Het was een bijzonder geslaagd weerzien met Tiznit. Maar zoals altijd: hoe meer tekeningen ik ergens maakt hoe meer dingen ik niet getekend heb maar nog hoognodig getekend moeten worden… Met dank aan de goede zorgen van mijn gastheer Aby en de staf van Riad Janoub.
The visit to Tiznit was more than successful. But as ever: the more sketches I make the more places I want to sketch. Always a good reason to come back. With many thanks to the wonderful hospitality of my host Aby and the staff of the Riad Janoub.
Ik kreeg een warm welkom in Tiznit. Overal in waar ik wilde tekenen was ik welkom. Na afloop werd er dan een foto met het mobieltje van de tekening gemaakt.
The people of Tiznit gave me a warm welcome. Everywhere where I wanted to sketch I was welcome. Afterwards a quick photo with the phone followed.