Vanaf mijn eerste publicatie in 1970 in InterLinks heb ik tot medio negentiger jaren regelmatig tekeningen, cartoons en strips voor de meest uiteenlopende tijdschriften gemaakt. Veel is verdwenen in de mist des tijds. Opvallend was wel dat in de tachtiger jaren het de trend was om 'voor de lol' te werken. Er was geen geld meer om aan zulke onbelangrijke zaken als beeldmateriaal te spenderen en men veronderstelde dat het 'toch goed was voor de naamsbekendheid'. En omdat ik meest werkte voor de meer obscure publicaties uit de 'alternatieve' hoek. Vanaf 1988 begon ik met vrienden eigen 'blaadjes' te maken. De meest omvangrijke was 'De Oester' die dan ook omkwam in de eigen ambitie. Meer succesvol waren 'Het Schandaal' en 'De Polranny Times'.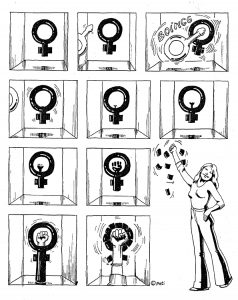 Vroege strips/Early comics
Nog zo wat/ Something else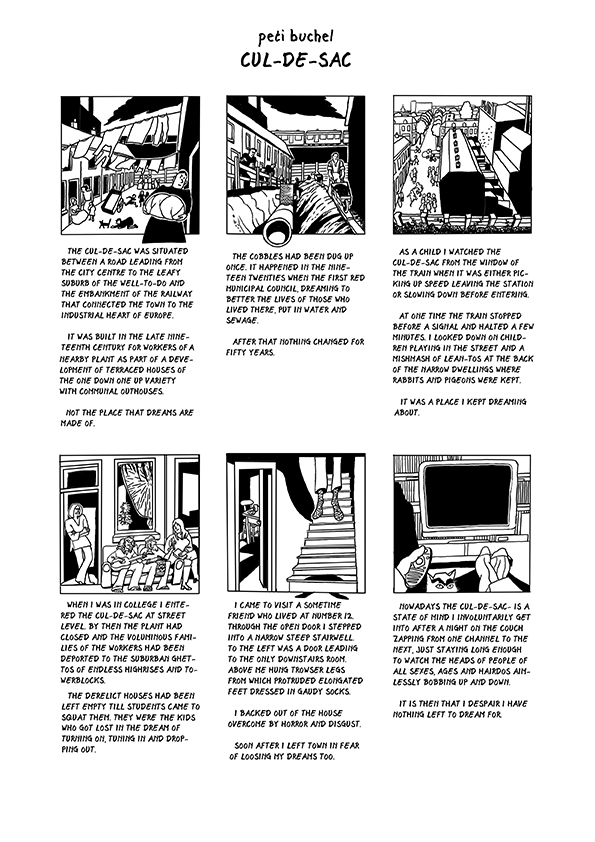 Cul-De-Sac was originally the homework title for the Achill Writers Group that I transformed in a graphic story. However my handwriting had been deteriorating over the years and I could not add the writing to the drawings. In the beginning of 2017 Louwrens Duhen and Jet Schroot made a font for me out of my own handwriting. In Cul-De-Sac I tried it out for the first time.
Cul-De-Sac was een kort verhaal dat ik in 2014 schreef voor de Achill Writers Group. Vrijwel meteen vertaalde ik de stof in een strip. Echter over de jaren kreeg ik steeds meer moeite met het schrijven van letters. Daarom vroeg ik Louwrens Duhen en Jet Schroot of zijn een font voor mij wilden maken voordat het helemaal te laat was. In Cul-De-Sac probeerde ik het voor het eerst uit.
Op 17 januari 2014 kreeg ik een hartinfarct. Ik werd gedotterd in Galway University Cardiac Unit en daarna overgebracht naar Mayo regional Hospital in Castlebar om gemonitord te worden. Drie dagen later was ik weer thuis. Uit deze episode zijn twee strips gekomen. Één heb ik in de ICU gemaakt en één die ik daarna over het trauma van de hartinfarct tijdens mijn dagelijkse wandeling. Terzelfder tijd had Dan McDonald voor de AWG de dood  als onderwerp voor 'The Visitor' gekozen. Ik vroeg Dan of ik aan zijn gedicht beelden mocht toevoegen. De strip telt twee verhalen: één hoe wij tegen de dood aankijken en één door de dood achtervolgd te worden.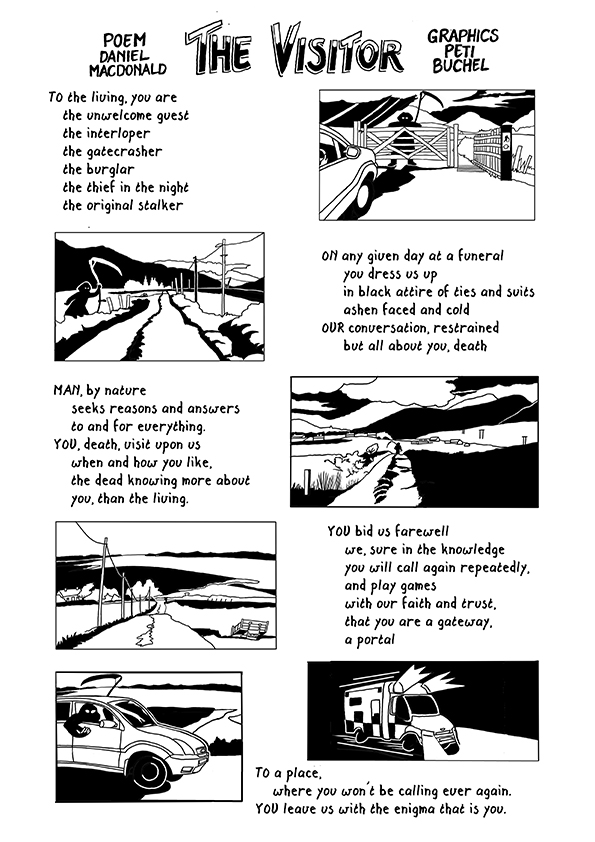 On January 17 2014 I got a heart attack. I had three stents put in at Galway University Cardiac Unit and was further monitored at Mayo Regional Hospital in Castlebar. After three days I was home again. The event resulted in two graphic stories. One actually made in the ICU and one made afterwards about the trauma of the heart attack during my daily walk. At the same time Dan McDonald chose death as the subject of the AWG's homework: The Visitor. I asked Dan if I could put images with his words. The resulting piece tells two distinctly different stories. One about how we perceive death and one being chased by death.