Vanwege de puinhoop die het Midden Oosten was in 2013, zocht ik naarstig naar een nieuwe bestemming in het Islamitische cultuurgebied waar ik kon tekenen. Het werd Marokko. Vanuit Marrakesh zou de reis over de Hoge Atlas en Anti Atlas door de Draaivallei naar Tamagroute gaan. Daar was volgens de boekjes een Soefi bibliotheek.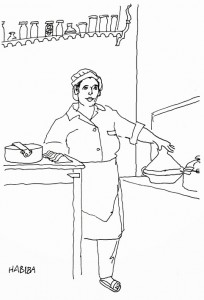 Bert van 'Het Vliegende Nijlpaard' zou mij vergezellen en gidsen en onderweg zou ik overal waar ik maar wilde, kunnen tekenen: 17 dagen lang! Wat een luxe.
In 2013 because of the mess the Middle East was in I was looking for a new destination within the Islamic cultural sphere where I could do some Urban Sketchings. To Morocco I went. Starting in Marrakesh the trip would go over the High Atlas and into the valley of the river Draa to Tamagroute where according to the travel literature there would be an old Sufi library. Bert of 'The Fying Hippo would accompany me and be my guide. For 17 days I would be able to sit down and sketch wherever I fancied. What a luxury that would be!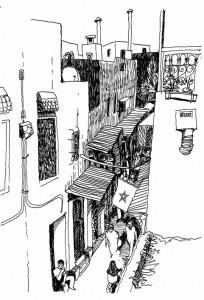 Toen ik weer terug in Amsterdam was heb ik al mijn tekeningen van tekst voorzien en er een blog van gemaakt (zie hieronder). De blog was klaar vlak voordat ik weer naar Marokko zou gaan.
After I came home I collected all my sketches, added stories and put them in a blog (See below).  The blog came to an end just before I got on the plane to visit Morocco again.